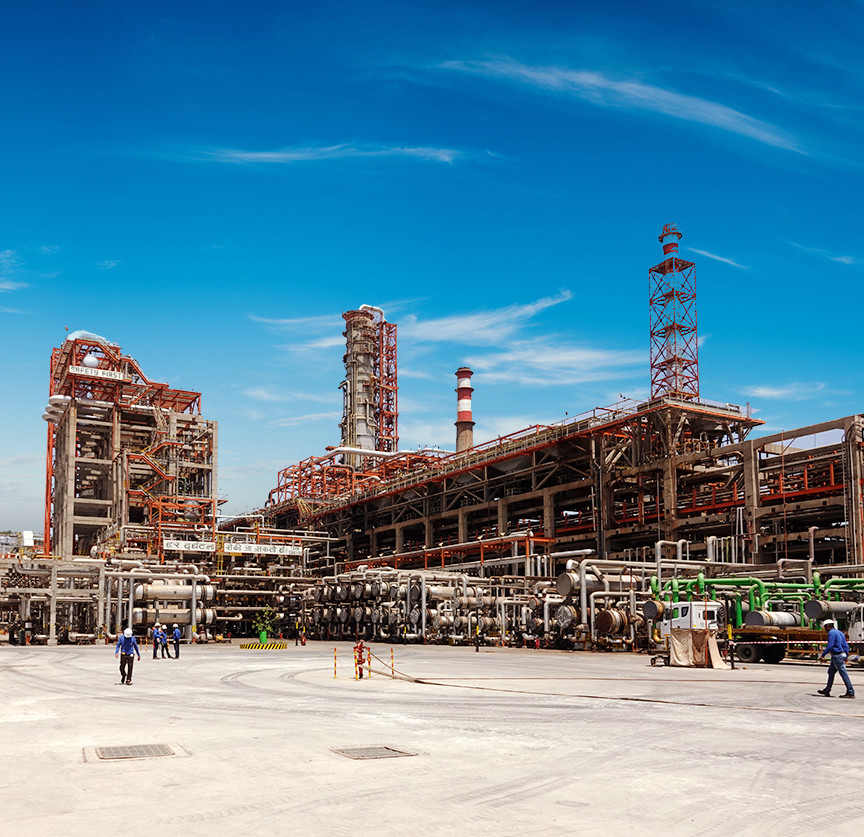 The Vadinar refinery (in Gujarat) is India's second largest single-site, state of the art refinery, which constitutes approximately 8% of India's refining capacity.
Our refinery is one of the most modern and complex refineries (Nelson complexity index 11.8) in the world having businesses across the hydrocarbon value chain from refining to retail and is geared up to the vision of delivering crude to chemicals.
Our refinery is strategically located on the west coast of India, providing proximity to Middle East and Africa and also facilitate access to high consumption domestic as well as export market.
How it all started
Vadinar, a small coastal town located in Devbhoomi Dwarka district in the state of Gujarat, India, is home to one of the most complex refineries in the world. Our refinery started commercial production on May 1, 2008 and is today India's second largest single - location refinery, capable of handling a diverse range of crude - from sweet to sour and light to ultra-heavy.
The Refinery has an annual capacity of 20 million metric tonnes (MMT) or 405,000 barrels per day (bpd). It is capable of processing some of the toughest crudes and yet produce high quality Euro IV and Euro VI grade products. We can now produce high quality Bharat Stage (BS VI) compliant fuels that meet international standards. This brings us closer to the global emission standards.
Safety at Vadinar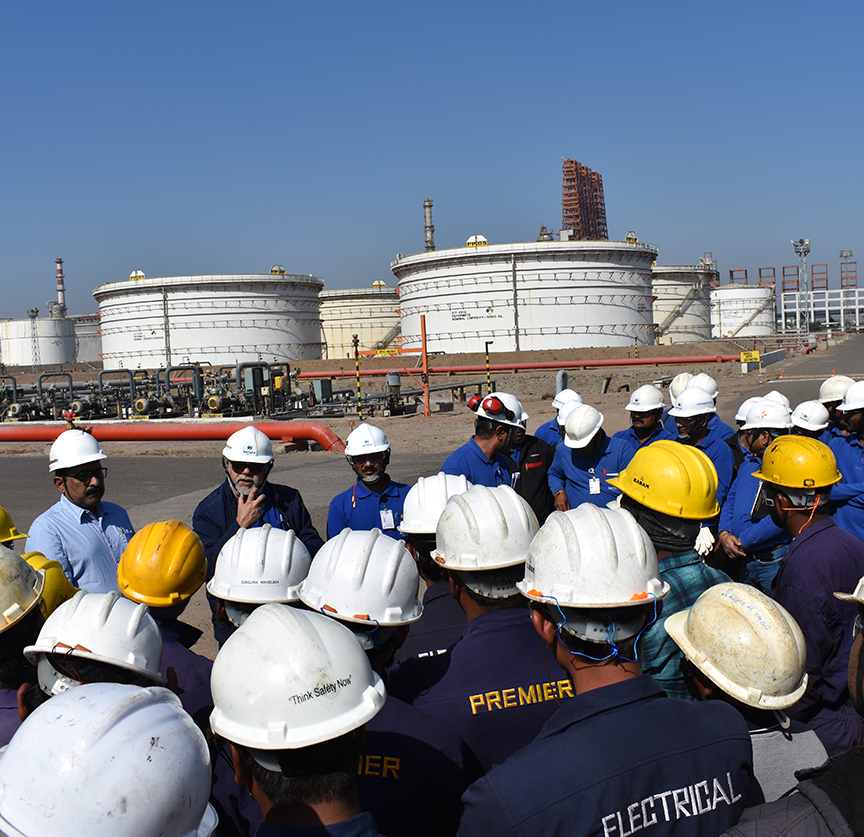 Health, Safety and Environment (HSE) is a key value for Nayara Energy. We are committed to provide safe operations and work places, to protect the health and safety of its employees and contractors, as well as to mitigate the environmental impact of our operations
Our refinery operates an integrated health, safety, environment and quality (HSEQ) management system. It is the first Petroleum Refinery to be certified in ISO 45001:2018, which is conforming to the Occupational Health & Safety Management System. The company's HSEQ Management System is compliant with the ISO 9001:2015, ISO 14001:2015 and ISO 45001:2018 standards. The company has also been certified with ISO 50001:2011 for its Energy Management System.
The Refinery has a well-developed Process Safety Management (PSM) system, which covers the monitoring of multiple vital aspects of the Refinery functions, including Chemical Safety Management, Hazard Identification & Risk Analysis, Management of Change, and Asset Reliability. The facility also has a robust Emergency Response & Disaster Management Plan (ERDMP) in place and conducts mock-drills periodically to check and evaluate the effectiveness of the risk control systems in place.
Continuous Emission Monitoring System & Continuous Effluent Quality Monitoring System with advance analyzers provide real-time data to the Central Pollution Control Board (CPCB). We are compliant with all the statutory requirements of the State Pollution Control Board, the Central Pollution Control Board, and the Ministry of Environment Forest & Climate Change (MoEF&CC).
Environment Protection
400
hectares (1,000 acres)
of green belt
LOW SULPHUR FUEL
and low NOx burners for controlling SOx and
NOx emissions, respectively.
RAIN WATER HARVESTING
water conservation
mangrove plantation
175
hectares
Flexibility in raw materials
Diesel and medium distillates
Gasoline and light distillates